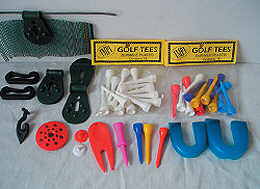 Many of our customers use our IMPI bolster system to greatly reduce tooling costs. The innovative multi-module tool design can be adapted to suit many small sized components and articles. Examples include: Shadecloth / windbreak clips, Ground Pins, Golf Tees & accessories, Sports mouthguards, Plastic buttons & washers.
Each item can be tooled to your own specifications and moulded in quantities of 500 units or over. Injection Moulded Plastics Industries take your ideas and inventions and turn them into reality.
We specialise in catering for small-run productions.
---
42mm Nail Washers
Extensively used by the building and construction industries
More flexible to provide added resistance to breaking or cracking
Can confidently  be used in very low temperatures
Choice of colours to identify your business
---
To find out more about the system that can substantially reduce your costs, contact us today.