Biodegradable Pins made from Polymaize
are a fully biodegradable material, formulated in New Zealand and manufactured entirely from renewable resources, mainly corn. It contains no crude oil based plastic at all. Over time living organisms transform Polymaize into water, carbon dioxide and fertile humus leaving no toxic or synthetic residue or waste in the soil.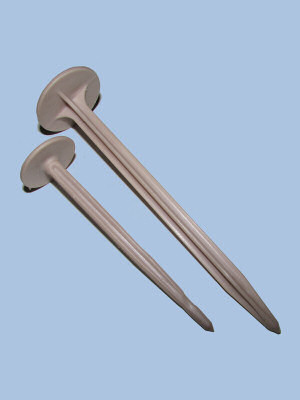 Time is money ….Save them both with the use of Biodegradable Pins.
Soil erosion, Seeding Mesh, Soil Saver and Grass Turf Securing.
Be Environmentally Responsible.
Biodegradable Pins allow more effective installation of biodegradable mesh and turf on sloping and level ground.
Once the turf or mesh is installed there is no more to do, over time the mesh and pins will gradually be absorbed into the soil.
Install turf or mesh with biodegradable pins and you can forget about any further work.
Seeding or grassing sloping ground becomes easy and effective.
Easy to install ….. ask about our no bending …no hammer installation.
Large driving head for easy installation and more security.
Won't bend nor easily pull out like wire pins.
Biodegrades and composts completely without any chemical or harmful residues.
Biodegrades to healthy plant matter similar to that of untreated wood.
Also available in Gripper Tips 280mm and 200mm for extra holding (see advantages).
Standard lengths 120mm (5 inch) & 175 mm (7 inch)